SECURITY POLICY
Please see below for what attendees and ticket holders are permitted and are not permitted to bring to the FEI World Equestrian Games™ Tryon 2018: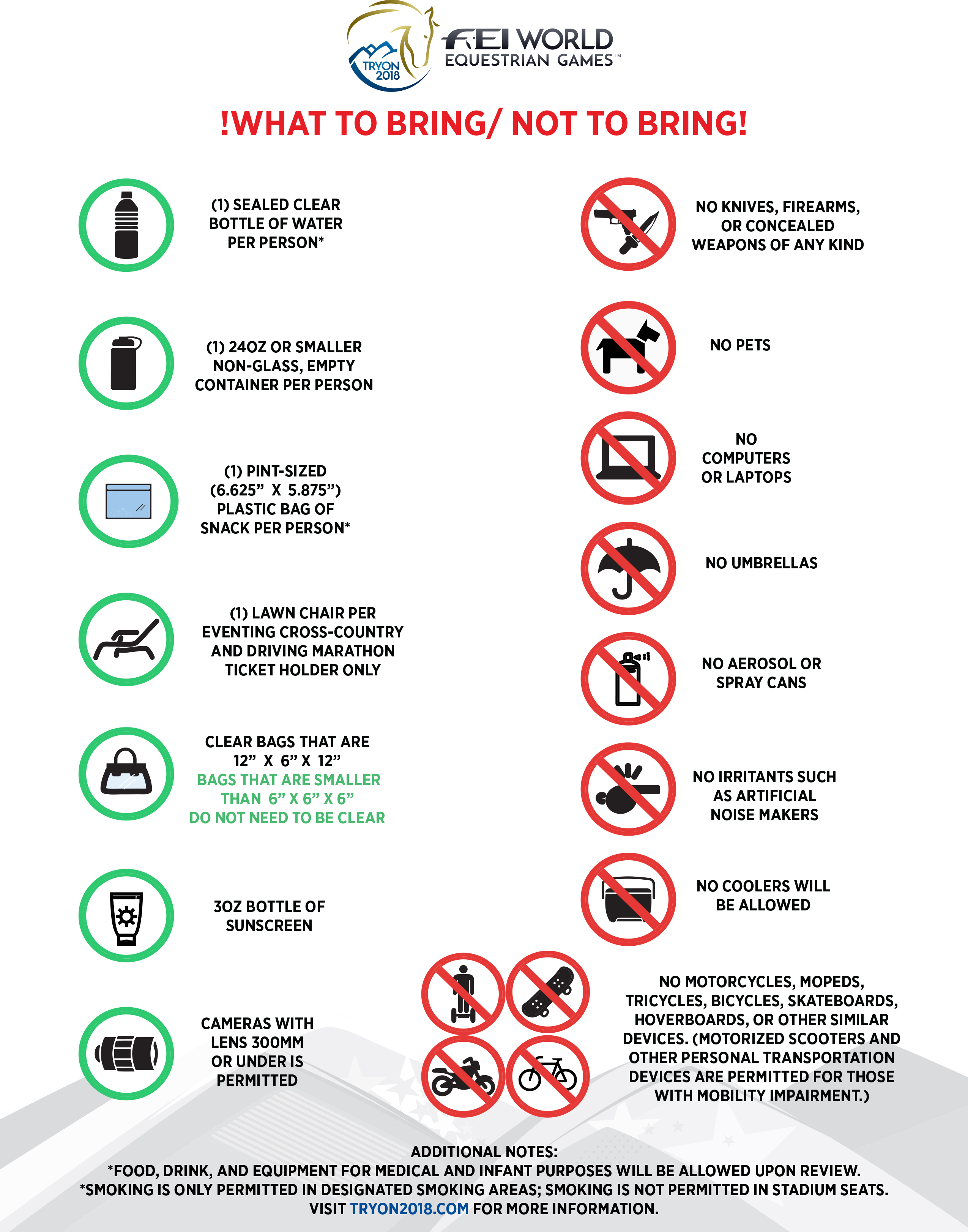 Water
-(1) sealed clear bottle of water per person/attendee
-(1) 24oz or smaller non-glass, empty container per person; clear containers are preferred as opaque containers will be subject to a security check
-No coolers will be allowed
Snacks
-(1) pint-sized (6.625″ x 5.875″) plastic bag of snack per person
-Gluten-free, vegan, and vegetarian options will be available at the food concessions within the venue
Cameras
-(1) maximum camera lens of 70-300mm is permitted
-Camera bags will be subject to a security check and tagged
Lawn Chairs
-Lawn chairs ARE permitted for Eventing Cross-Country and Driving Marathon competitions ONLY.
-(1) Lawn chair will be allowed per ticket holder
-Lawn chair bags will subject to an additional security screening and tagged
Bags
-Camera bags, diaper bags and strollers will be subject to a security check and tagged
-Bags smaller than 6"x6"x6" do not need to be clear
-Bags larger than 6"x6"x6" need to be clear or will be subject to security check and tagged
No Dogs On Property
This requirement was established by the USDA to prevent bloodborne diseases transmitted by ticks. The "no-dog" policy was enacted August 1 through the end of September. TIEC prides itself in being very dog-friendly place throughout the year and we look forward to welcoming them back after the Games!
Parking
The address for the spectator parking lot is 6881 S. NC Hwy 9, Columbus, NC.
Shuttles from the Hwy 9 lot will be running continuously, starting 2.5 hours prior to competition and ending 2.5 hours after the last competition ends each day. Click here to see the location. 
Parking Passes:Parking passes will be available for day-of purchases only. There are no pre-purchases. The fee is $20/day per car and $50/day for oversized vehicles (15+ people). The parking fee includes your shuttle rides to and from the venue.
Drop Off Options:You can also be dropped off by Ubers, friends, etc. at a parking lot on the northside of US 74 free of charge. This lot is reserved for those needing wheelchair accessibility as well. Shuttles will be available from this location into the venue.
Walking:It is illegal, according to NC DOT, to cross a state highway or interstate on foot. We will not allow walking on any road that crosses through or underneath Hwy 74. Due to safety concerns, we do not encourage walking from nearby roads.
Handicapped Parking:There will be handicapped parking available at the Steeplechase property located at 6881 S. NC Hwy 9, Columbus, NC. The handicapped parking spaces will be located closest to shuttle stops. A non-expired, issued handicap parking tag is required to park in these spaces. A wheelchair accessible parking area will also be available at the drop-off location on the northside of US 74.