Most commonly described as gymnastics on horseback, Vaulting is a breathtaking discipline that you will not want to miss! It's truly a test of the athletes' strength and trust, along with the horse's obedience.
Here are some fun facts about Vaulting:
During the test the horse canters on a circle with a minimum diameter of 15m, preferably more.
All tests must be executed in canter on the correct lead (left).
Male and Female vaulters may participate on the same Squad.
Riders must be at least 16 years old.
Horses must be at least seven years old to compete on the international level.
Judges score the performance on a scale from 0-10, with 10 being excellent.
A lunger must be at least 18 years of age to compete in international events.
Already know you want to come watch Vaulting this September?
Click here to purchase vaulting tickets now!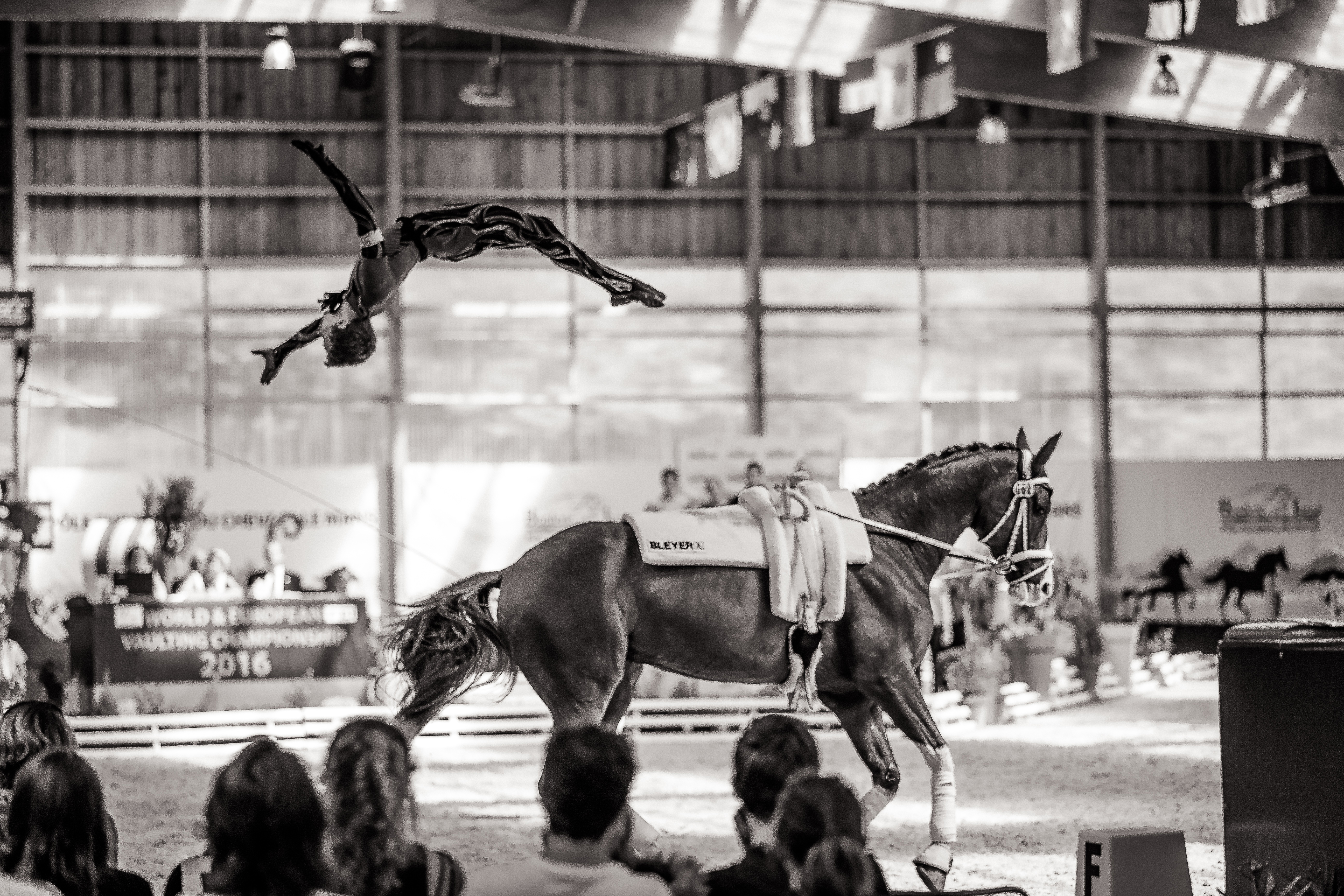 There are three different types of vaulting competition, and they can be recognized by the number of vaulters with each horse.
Squad Vaulting
A "vaulting squad" is comprised of the lunger, horse, and six vaulters. However, no more than three vaulters may be on the back of the horse at once, so they must take turns to ensure that they complete all of the required movements.
Individual Vaulting
This style includes a single vaulter joined by the lunger and the horse. In individual competitions, unlike all other equestrian disciplines, there are separate classes for males and females to ensure the equality of events.
Pas de Deux Vaulting
Pas-de-Deux translates to "a dance for two people" and this type of vaulting exemplifies just that. Pas-de-Deux consists of two vaulters, the lunger, and the horse. A fun fact about this style of vaulting is that any combination of gender is allowed to compete together.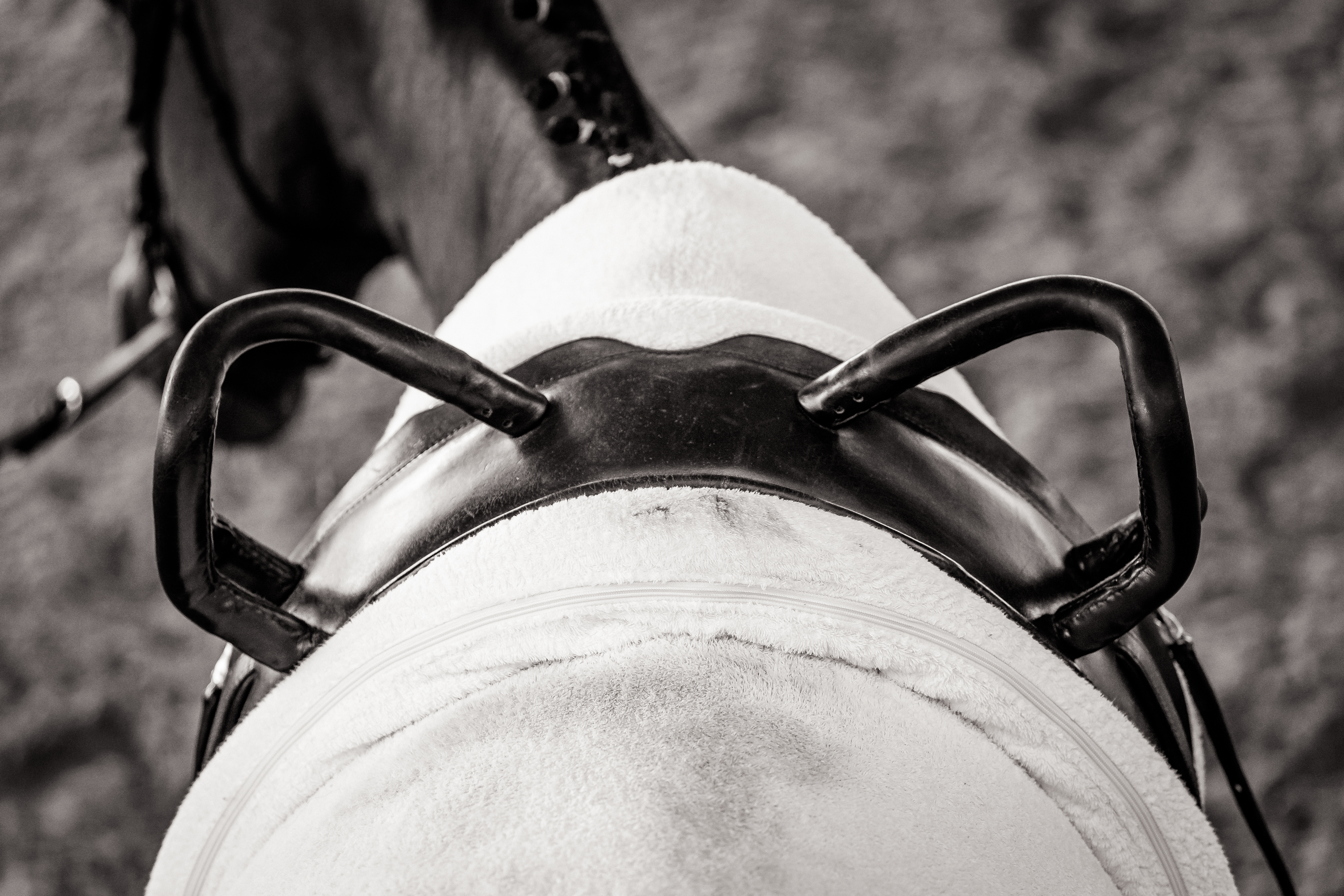 September 18: Squad Compulsory and Individual Compulsory Competition (Test 1/Round 1) 
During the first day of competition, the squad (team) completes a compulsory test. This competition determines the teams for the Nations Cup occurring the next day.
Individuals will also perform a compulsory test and their scores will affect the next day's starting order and their own individual final score.
In the Compulsory Test, all six vaulters have to show eight defined exercises within the time limit of 6 minutes.
The movements include:
1. Vault on
2. Flag
3. Mill
4. Scissors Forwards
5. Scissors Backwards
6. Stand
7. First part of Flank (back to the seat astride)
8. Swing off to the outside from the seat astride
September 19: Nations Cup Team  Freestyle & Medals, Individual Freestyle, and Pas de Deux Freestyle (Squad Test 2/ Round 1) 
The second day of competition includes the next test for squads and for individuals, as well as the first test for Pas de Deux. All three competitions will feature the freestyle test.
In the freestyle test, the vaulters design their own routine, in which six vaulters perform, with up to three vaulters performing on the horse at any one time (two must be in contact with the horse at all times). It includes both static and dynamic exercises. (A static exercise must be held for at least three canter strides.)
The 12 best squads,  12 best pairs, and 15 best individuals move on to Round 2.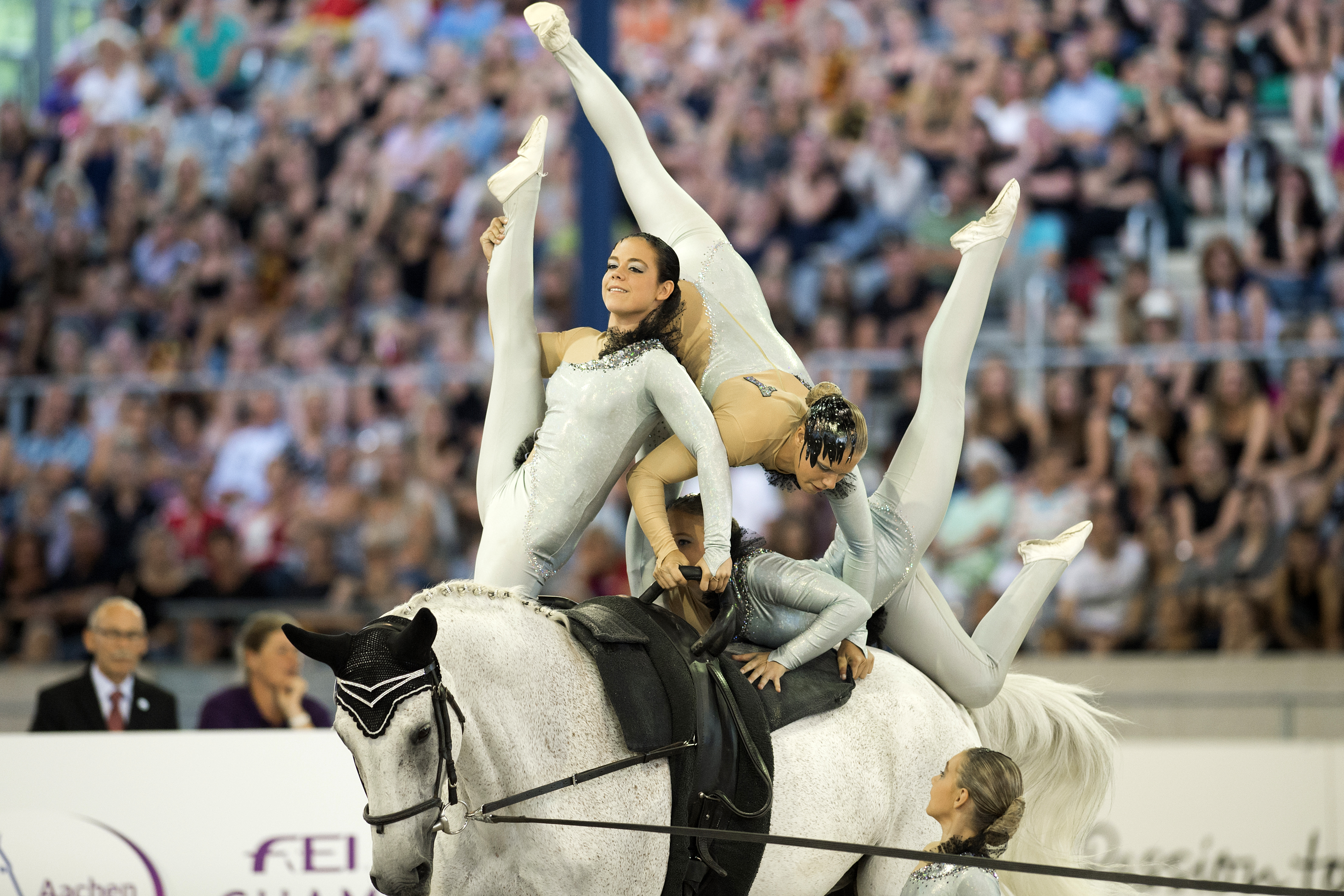 September 20: Individual Technical, Squad Freestyle and Pas de Deux Freestyle & Medal Ceremony (Round 2)
The third day of competition starts round 2 for non-Nations Cup squads, individuals, and Pas de Deux. Squads and Pas de Deux will complete another freestyle test while individuals complete a technical test.
The technical test is a mixture of compulsory and freestyle. It consists of five technical exercises and additional freestyle exercises, chosen by the vaulter. The technical exercises may be shown in any order.
Pas de Deux  scores are added together for both freestyle rounds and are divided by two to give the final standings on this day.
September 22: Individual and Squad Freestyle and Medal Ceremony  (Round 2 continued)
On the final day of vaulting competition, individuals and squads perform one more freestyle test. For individuals, the final score is calculated as an average of the scores from both the first and second rounds. Teams are scored out of ten during each round; all three scores are added together and divided by three to give the final score.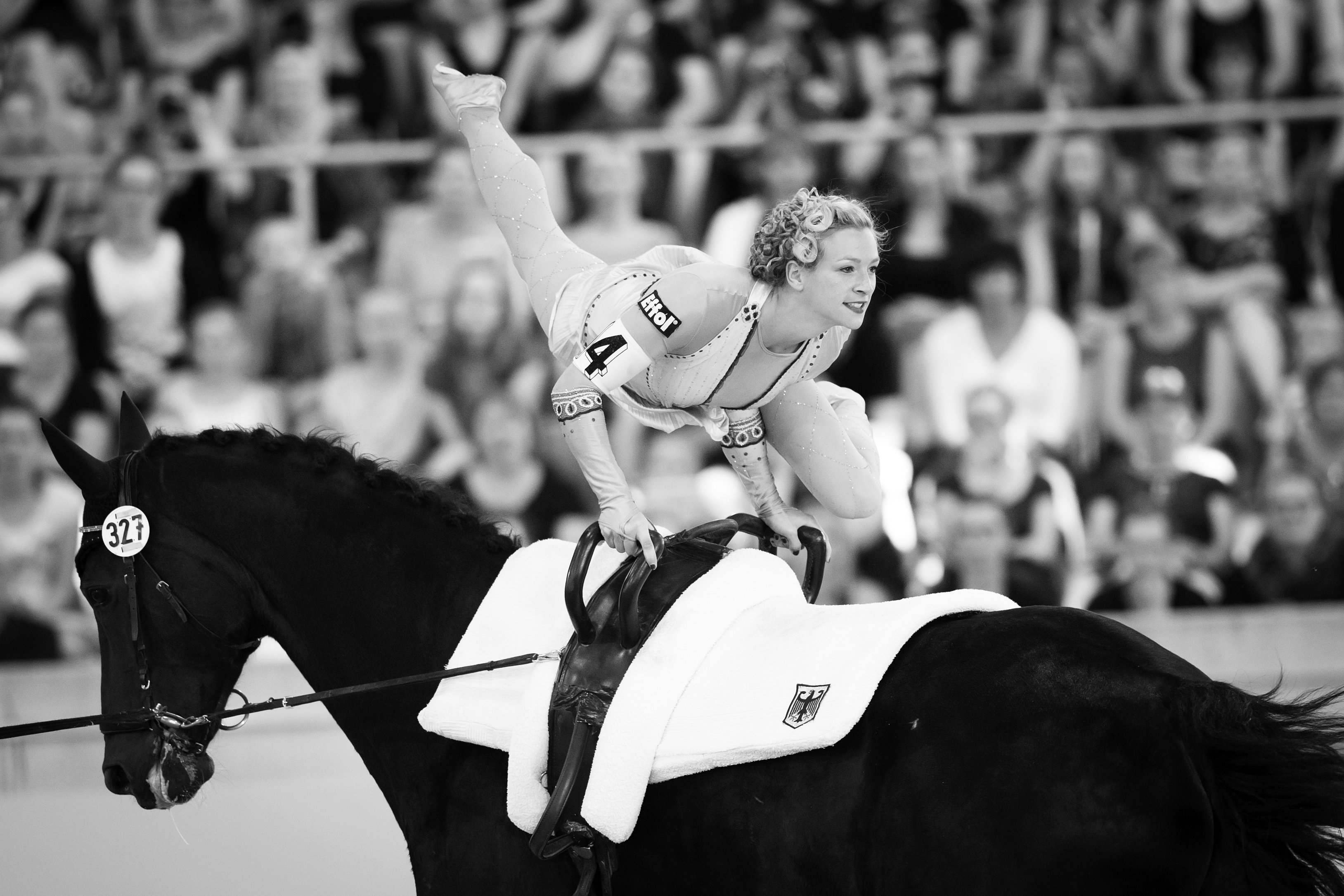 Now that you know more about the vaulting discipline, come watch in person this September!
Vaulting tickets are available now by clicking here. 
Vaulting Schedule: 
September 18: Squad Compulsory and Individual Competition (Individual & Squad compulsaries)
September 19: Team Freestyle (Including Pas de Deux Freestyle) and Medal Ceremony
September 20: Individual Technical, Squad Freestyle and Pas de Deux Freestyle and Medal Ceremony
September 22: Individual and Squad Freestyle and Medal Ceremony