Dressage is the ultimate expression of communication and elegance and has rapidly grown in popularity each year. The Olympic discipline is often compared to ballet, with a scoring system similar to ice skating. But what exactly do the competition days look like at the Games?  Read a few fast facts here and then find out more details below:
Athletes must be at least 16 years old.
Horses must be at least 6 years old.
The judges panel must include at least 3 foreign judges of different nationalities.
To participate an Athlete/Horse combination must have achieved a minimum of 64% in a Grand Prix at two different CDI 3*/ CDI4*, CDI-W/CDI5* or CDIO3* /CDIO4*.
Already know you want to come watch Helgstrand Dressage in September? Click here for tickets!
Helgstrand Dressage will be held over four days, with the medal ceremony occurring on the last day of individual competition. Scroll down to get a day by day breakdown of the competition!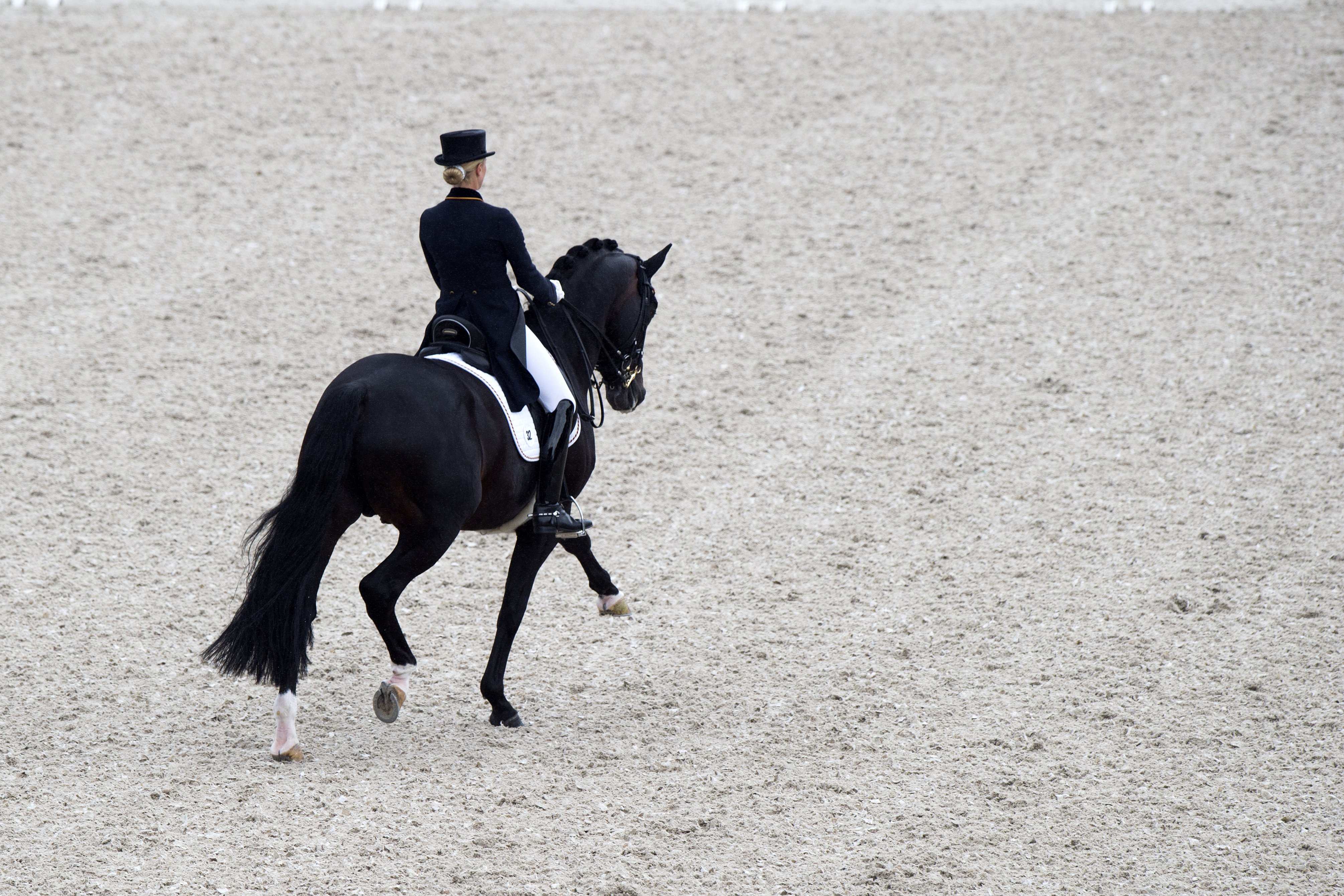 September 12: Grand Prix Day 1 – Team Competition and Individual Qualifier
The first day of competition features the Grand Prix – the highest level of competition. Structured to demonstrate a series of movements that highlight power, collection, and the strong partnership between horse and rider, the Grand Prix is a test composed for the highest caliber of competition. Movements in the Grand Prix test include passage, piaffe, pirouettes, and flying changes.
The starting order of the teams will be drawn in groups of five, based on the average of the points of the participating team athletes on the FEI Individual World Ranking list. The Chef d'Equipe of each team will determine the starting order of team members within his/her team.
September 13: Grand Prix Day 2 – Team Medals and Individual Qualifier
Day two of competition continues with another Grand Prix test.
September 14: Grand Prix Special – Individual Competition
The third day of competition tests individual athletes with a Grand Prix Special. Ridden in a longer format than the Grand Prix, the Special looks for a variety of scoring criteria including (but not limited to)- Quality of paces, cadence, collection, balance, promptness, and clear definition. During this test the transitions are a matter of great importance.
The draw for the Grand Prix Special will be in reverse order of result from the Grand Prix, in groups of five.
September 16: Grand Prix Freestyle – Individual Final & Medals
The final day of Helgstrand Dressage competition features the Grand Prix Freestyle! This test allows riders a creative way to express and highlight the true athleticism of the horse. Choreographed specifically for a particular mount, the test is ridden to music and is composed of a series of complicated movements that cohesively gel together to form one beautiful routine. Certain movements must be demonstrated and the test should clearly show the unity between horse and rider as well as harmony in all the movements and transitions.
The draw for the Grand Prix Freestyle will be in reverse order from result from Grand Prix Special, in groups of five.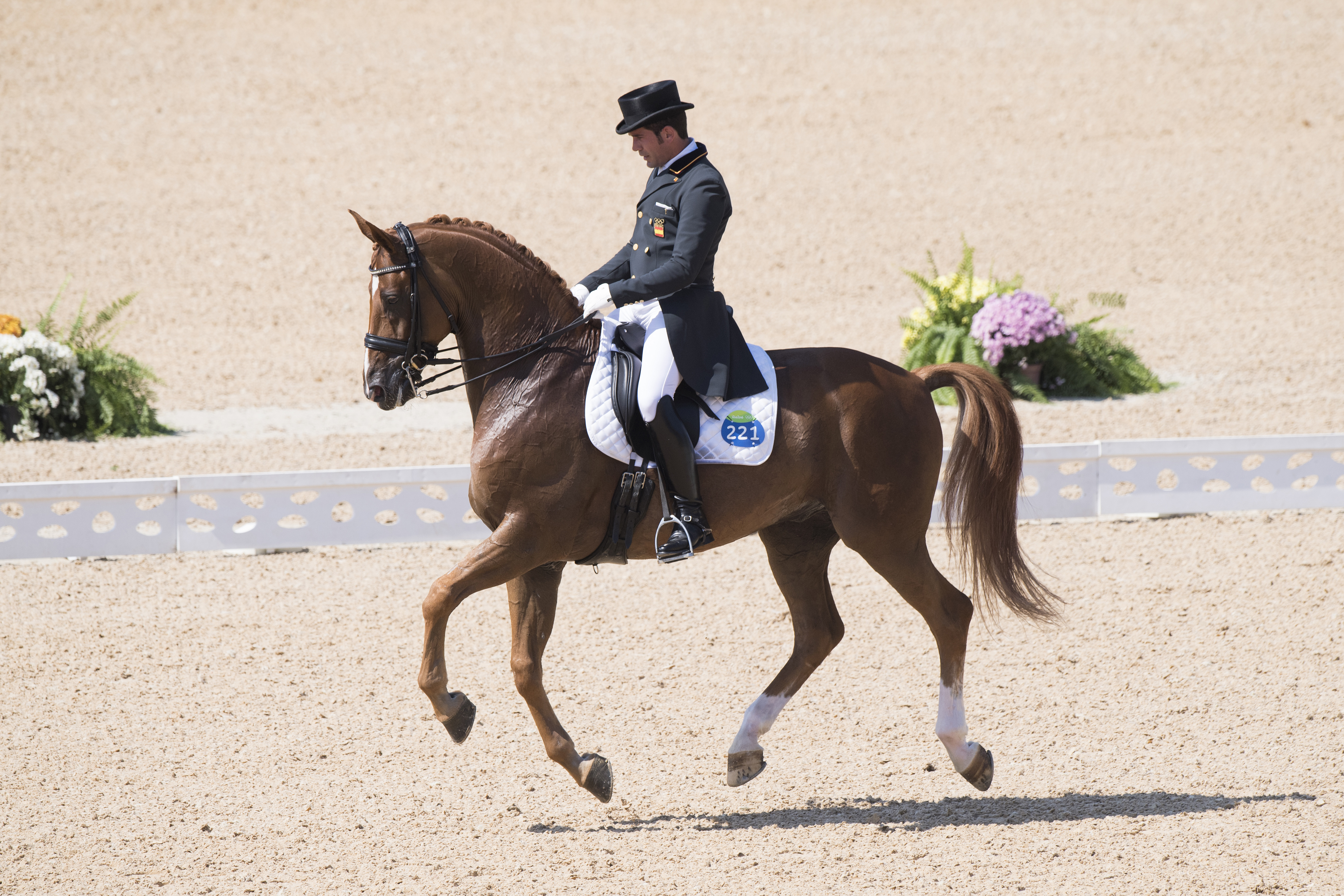 Dress Code:
Athletes who are 26 years and older and who are riding horses that are 7 years and older may wear a top hat/bowler instead of Protective Headgear. The hat must be black or same color as the coat.
Coat:  Must be black or dark blue tail coat or jacket, or other dark colors may be worn within in the international HSV color scale
Breeches: Must be white or off white
Stock or tie: Must either be white, off white, or same color as coat
Gloves: Must either be white, off white, or same color as coat
Riding boots: Must be black or same color as coat
For Grand Prix Freestyle only, any single color tailcoat or jacket will be allowed. Striped or multi-colored coats or jackets are not permitted. Tasteful and discreet accents, such as a collar of a different hue or modest piping or crystal decorations, are acceptable.
Now that you know exactly what to expect for the Helgstrand Dressage competition, it's time to purchase your tickets and come cheer on your teams or individual riders this September!
Helgstrand Dressage tickets are available now by clicking here. 
Helgstrand Dressage Schedule:
September 12: Grand Prix Day 1 – Team Competition and Individual Qualifier
September 13: Grand Prix Day 2 – Team Medals and Individual Qualifier
September 14: Grand Prix Special – Individual Competition
September 16: Grand Prix Freestyle – Individual Final & Medals