For Immediate Release
Tryon, NC, USA – October 26, 2018 – More than 4.7 million U.S. viewers tuned into NBC Sports' presentation of the FEI World Equestrian Games™ Tryon 2018 (WEG) across NBC, NBCSN and The Olympic Channel on September 11-23, 2018. Over the duration of the two-week period, the WEG received 11 airings of equestrian competition totaling 65 hours of coverage with 57 hours of live coverage. Viewership peaked for the last day of Jumping competition, which was broadcast live on NBC on Sunday, September 23, 2018. Viewers watched in awe as Simone Blum of Germany was crowned the victor, going down in history as the first female to ever win an individual gold medal in Jumping at a WEG. The event also included record setting FEI digital viewership of 16.5 million video views, 84.2 million impressions and 1.6 million in engagement. Within the next few weeks, global viewership numbers will be released. The event also delivered incredible media exposure for equestrian sport, totaling more 4.5 billion global media impressions and was referenced in over 14,000 articles.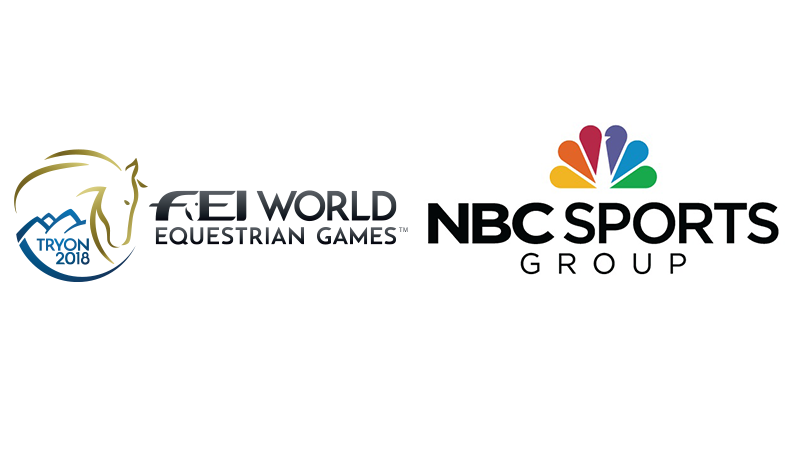 Some of the equestrian sports broadcast from the WEG included: Dressage Team & Individual Grand Prix competitions, Endurance Team & Individual rides, Eventing Cross-Country, Eventing Jumping, Vaulting Individual Female & Male competitions, Vaulting Squad, Vaulting Freestyle, Jumping Teams, Jumping Individuals, Driving Marathon, and Driving Cones.
"Two of our core goals for hosting the WEG were to introduce equestrian sport to a broader U.S. audience and to promote sponsorship within the sport. This level of viewership exceeded our expectations and will position us to attract even greater levels of sponsorship. We are incredibly thankful to NBC Sports for continuing to see the value of covering equestrian sport and for partnering with us on the 2018 FEI World Equestrian Games with an investment of more than 60 hours of unprecedented coverage. The 4.7 million unique domestic viewers are a testament to the increasing level of interest people have for horse sport and an important milestone in our mission to grow the equestrian industry," said Mark Bellissimo, Managing Partner of Tryon Equestrian Partners and CEO of Tryon International Equestrian Center.
"The FEI World Equestrian Games is the sport's most diverse event as it features championships for all eight disciplines and NBC's expertise in sports broadcasting meant we had the opportunity to offer first-class coverage of the Games to the widest possible American audience," Ralph Straus, FEI Commercial Director said. "This collaboration with NBC resulted in unparalleled exposure of our sport being broadcast live across the network which was a huge step forward in gaining a new wave of interest in equestrian and the ideal platform for expanded exposure of our athletes, our sport and our partners."
"Further, a number of new major national sponsors have entered the industry including Coca-Cola, Bank of America Merrill Lynch, U.S. Trust, Mars, Inc., Pedigree, Polaris®, Johnson Controls, United Rentals, Atrium Health, Sharp Electronics, and New Holland, to name a few. Many of these sponsors have signed up for multi-year deals across our properties," added Bellissimo.
The WEG received extensive coverage showcasing the best equestrian athletes in the world. For many athletes and teams, the WEG was the qualifier for the upcoming Tokyo 2020 Olympic and Paralympic Games. As history was being made at the WEG, NBC Sports was there, immersed in all the action. One of the highlights was Team USA clinching the gold medal in Jumping for the first time ever at a WEG, followed by Team USA's first gold medal for Driving. NBC Sports caught all the live action, as well as the priceless expressions in the awards ceremony, from competitors and fans alike.
Media Inquiries
For media inquiries about the FEI World Equestrian Games™ Tryon 2018, please visit www.Tryon2018.com or contact one of the following press officers:
National Press Officer – Carly Weilminster at cweilminster@tryonweg.com or +1 (828) 863-1144
International Press Officer – Gayle Telford at gayle@revolutionsports.co.uk or 0044(0) 203 176 0355
For more information from the FEI, please contact Shannon Gibbons at shannon.gibbons@fei.org or 0041-78-750-6146.
About the Tryon International Equestrian Center
Tryon International Equestrian Center at Tryon Resort, host of the FEI World Equestrian Games™ Tryon 2018, is one of the world's premier equestrian lifestyle destinations, with first-class facilities for all eight FEI disciplines. From carousel to competition, the mission of Tryon Resort is to celebrate the magic of the horse, grow equestrian sport, and increase access to this majestic animal. Tryon Resort is a spring, summer and fall haven for equestrian competitors and enthusiasts, and a year-round destination for connoisseurs of diverse cuisine and shopping, lodging getaways, and family entertainment. Learn more at www.Tryon.com.
About the FEI World Equestrian Games™
The FEI World Equestrian Games™, held every four years in the middle of the summer Olympic cycle, is the property of the Fédération Equestre Internationale (FEI), the world governing body for horse sport organized by the International Olympic Committee (IOC). It is one of the biggest events on the global sporting calendar, combining World Championships in the Olympic disciplines of Jumping, Dressage and Eventing, the Paralympic discipline of Para-Equestrian Dressage, as well as Driving, Endurance, Vaulting and Reining.
The inaugural FEI World Equestrian Games™ were hosted in Stockholm (SWE) in 1990. Since then the Games have been staged in The Hague (NED) in 1994, Rome (ITA) in 1998, Jerez (ESP) in 2002, and Aachen (GER) in 2006. The first Games to be organized outside Europe were the Alltech FEI World Equestrian Games™ in Kentucky (USA) 2010. The Games came back to Europe for the 2014 edition, the Alltech FEI World Equestrian Games™ in Normandy (FRA). The Tryon 2018 Games offered qualifying slots for the Tokyo 2020 Olympic and Paralympic Games.
The FEI World Equestrian Games™ History Hub can be viewed here.