For Immediate Release
Tryon, NC USA – September 23, 2018 – Germany's Simone Blum made equestrian history as she was crowned Individual World Champion in the Bank of America Merrill Lynch Jumping Championship at the FEI World Equestrian Games™ Tryon 2018 on Sunday to conclude competition in U.S. Trust Arena at Tryon International Equestrian Center (TIEC).
The 29-year-old from Bavaria in southern Germany became the first female Individual Jumping Gold medalist in eight FEI World Equestrian Games™ editions.
Simone Blum and DSP Alice
©Sportfot 
No one could doubt her right to the title aboard brilliant 11-year-old chestnut mare DSP Alice, after they delivered five successive clear jumping rounds, with just one time fault, across four days of action at the U.S. Trust Arena.
Such was her dominance that Blum had a fence in hand going into the final round, but it was not required as she enjoyed a final winning margin of more than three penalties from Silver medalist Martin Fuchs and Clooney, while Fuchs' fellow Swiss rider, London 2012 Olympic champion Steve Guerdat, finished third on Bianca.
Martin Fuchs and Clooney
©Sportfot 
"I cannot believe it," said Blum, who won more than $90,000 in prize money in her FEI World Equestrian Games™ debut. "I cannot describe my feelings. It is just the perfect day.
"Alice performed the whole week without any jumping faults. She is such a careful horse with the biggest heart. I was a little bit nervous today, but I stayed focused and knew that if I rode well then she never normally touches a pole.'
"There was a bit of pressure because Martin had a clear round and I wanted to be clear or maybe with one time fault. It is unbelievable what has happened. Alice is a very special horse and this week she showed her talent."
Steve Guerdat and Bianca
©Sportfot
Blum, who will marry her fiance Hans-Gunther Goskowitz in the next four weeks and whose father Jurgen competed as an eventer at the 1996 Olympics, underlined in sensational fashion a new generation of German riders that also saw team-mate Laura Klaphake feature among the 25 riders that contested Sunday's penultimate round.
Irishman Alan Wade, who Guerdat singled out for praise afterwards, "Alan deserves a medal as well," he said – designing two more outstanding courses, with 25 riders being whittled down to a final 12 to contest the medals.
Simone Blum, Martin Fuchs, and Steve Guerdat in their presentation ceremony. 
©Sportfot 
The time allowed of 67 seconds tested every combination to the maximum, with only Guerdat, who jumped double clear, and Australia's Rowan Willis of the final dozen going inside it, while the day's biggest climber was Colombian Carlos Enrique Lopez Lizarazo, who moved from 25th to fifth after only gaining his chance when Sweden's Henrik von Eckermann withdrew.
Newly anointed World Champions in the United States had three riders in the last 12, with McLain Ward their highest-placed finisher in fourth.
Fuchs, whose father Thomas and uncle Markus are both prominent former riders, completed a stunning return on Clooney after the horse underwent colic surgery earlier this year.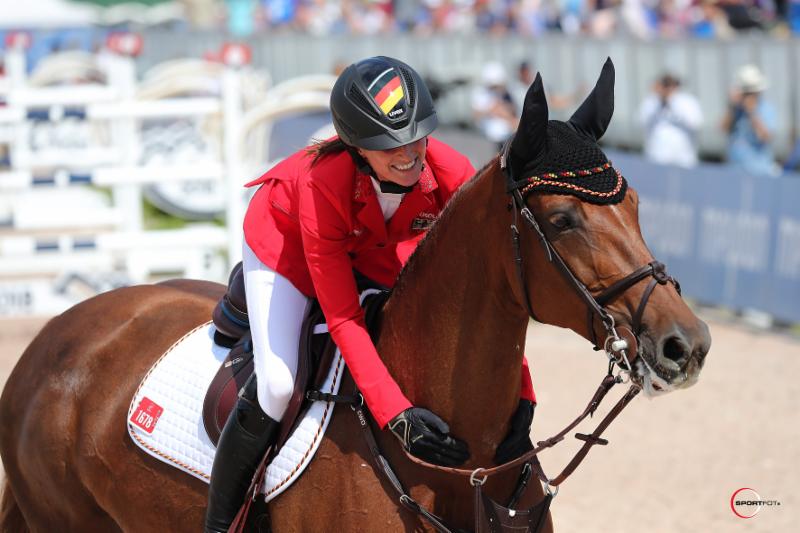 Simone Blum and DSP Alice enjoy their winning moment after Blum becomes the first female to win an Individual World Championship Gold medal for the
Jumping discipline. 
©Sportfot
"It is a great feeling to be on the podium," Fuchs said. "We won a five-star competition in Basle earlier this year, then Clooney had colic surgery. We were worried about him, but he recovered very well and we are just so happy how he came back.
"This is my first world championship, so I haven't started too badly! I had a really good feeling with the horse all the way through."
Guerdat, who regularly trains with Fuchs and is a close friend of the family, added, "I am really not disappointed about being third. We had an amazing day.
"My mare has jumped wonderfully all week and she showed again why she is so special. To finish on the podium with my friend Martin is a very special day. He is like a brother, we train together, we are neighbors and his family are like my second family."

Boyd Exell Wins Fifth World Championship – First Gold for Team USA in Polaris RANGER Driving 
Australia's Boyd Exell took his fifth individual world champion title and Team USA won their first gold in the Polaris RANGER Driving competition, closing the FEI World Equestrian Games™ Tryon 2018 on Sunday.
Leading from the start of the competition, driving icon Exell finished the Cones phase just one second over time, adding 0.53 points to his final score of 154.14 for his dark bay four-in-hand-team, led by his stellar black gelding Zindgraaf.
Boyd Exell and team claimed Individual Gold following the Cones phase. 
©Sportfot 
"This win was a huge relief because we have a big group of people that have been with me for 25 years. I am super lucky to have such extremely good horses. They absorbed the crowd's enthusiasm and I was able to support them."
On home ground, Team USA represented by Chester Weber, Misdee Wrigley-Miller and James Fairclough delivered a start-to-finish-victory, ending on 353.39 points in front of the Netherlands (356.79) and Belgium.
Chester Weber and team on their way to claiming the Team Gold and Individual
Silver medal. 
©Sporfot 
"It's unbelievable. It takes a village to make this whole thing work – I said all week that I was going to keep my head down and concentrate on my own game and hopefully on Sunday I'll pick my head up with a medal or two around it," said Chester Weber.
World's No. 2 driver and four-time WEG-competitor Weber was the strongest driver in all three phases for the U.S. The 43 year-old multiple National Champion, defended his Individual Silver from WEG 2014 with ease, adding only 2.77 points for time in the Cones phase to his result after Dressage and Marathon.
"It is humbling. When I started as a 13-year old. James Fairclough was my teacher and now we were winning in one team."
Misdee Wrigley-Miller and team helped Team USA finish in the top position. 
©Sportfot 
Historic driving powerhouse The Netherlands lost their world title and kept Silver for Koos de Ronde and Ijsbrand and Bram Chardon. Both Chardons had mistakes in the Marathon and fought hard in the cones course.
WEG-novice Bram Chardon (25) was the only driver in a field of 19 competitors to stay clear within the time, winning the cones phase.
"I did not sleep at all, thinking all night about what I had to do today. I wanted to prove myself and I knew I had what it takes."
James Fairclough and team in the Cones phase of Polaris RANGER Driving at Tryon 2018.
©Sportfot
"I had looked at nothing else but the shortest ways between the cones. Nothing else was on my mind, but doing everything for a Dutch team medal," said the younger Chardon.
The young Belgian team of Edouard Simonet, Gleen Geerts and Dries Degrieck, all under 30 years old, secured Bronze, Belgium's first WEG Team medal after Aachen in 2006. European Silver-medalist Simonet finished third individually behind the experienced veterans Exell and Weber.
"There was a lot of pressure on us since our federation has invested a lot in our trip. We showed that we are worth investing in. We have a good future", said Simonet, who had just turned 29.
World's No.3 driver Koos de Ronde at his fourth WEG finished fourth individually. Tryon was the first WEG without a Dutch driver on the individual podium.
For more information on the FEI World Equestrian Games™ Tryon 2018 and to view start lists and results, please visit 
www.Tryon2018.com
.
To purchase tickets or for more information about the WEG, please visit 
www.Tryon2018.com
.

Media Inquiries

For media inquiries about the FEI World Equestrian Games™ Tryon 2018, please visit
www.Tryon2018.com
 or contact one of the following press officers:
National Press Officer – Carly Weilminster at cweilminster@tryonweg.com or +1 (828) 863-1144
For more information from the FEI, please contact Shannon Gibbons at shannon.gibbons@fei.orgor 0041-78-750-6146.
Photo Credit 
©Sportfot
. These photos may be used once in relation to this press release with proper credit.

About the Tryon International Equestrian Center

Tryon International Equestrian Center at Tryon Resort, host of the FEI World Equestrian Games™ Tryon 2018, is one of the world's premier equestrian lifestyle destinations, with first-class facilities for all eight FEI disciplines. From carousel to competition, the mission of Tryon Resort is to celebrate the magic of the horse, grow equestrian sport, and increase access to this majestic animal. Tryon Resort is a spring, summer and fall haven for equestrian competitors and enthusiasts, and a year-round destination for connoisseurs of diverse cuisine and shopping, lodging getaways, and family entertainment. Learn more at 
www.Tryon.com
.

About the FEI World Equestrian Games™
The FEI World Equestrian Games™, held every four years in the middle of the summer Olympic cycle, is the property of the Fédération Equestre Internationale (FEI), the world governing body for horse sport organized by the International Olympic Committee (IOC). It is one of the biggest events on the global sporting calendar, combining World Championships in the Olympic disciplines of Jumping, Dressage and Eventing, the Paralympic discipline of Para-Equestrian Dressage, as well as Driving, Endurance, Vaulting and Reining.

The inaugural FEI World Equestrian Games™ were hosted in Stockholm (SWE) in 1990. Since then the Games have been staged in The Hague (NED) in 1994, Rome (ITA) in 1998, Jerez (ESP) in 2002, and Aachen (GER) in 2006. The first Games to be organized outside Europe were the Alltech FEI World Equestrian Games™ in Kentucky (USA) 2010. The Games came back to Europe for the 2014 edition, the Alltech FEI World Equestrian Games™ in Normandy (FRA), which attracted more than 500,000 on-site spectators and a worldwide television audience of 350 million, as well as delivering an economic impact of €368 million to the French economy.

The Tryon 2018 Games offer qualifying slots for the Tokyo 2020 Olympic and Paralympic Games.

The FEI World Equestrian Games™ History Hub can be viewed 
here
.