Enjoy this special Q&A with WEG Vaulting Co-Discipline Managers Katherine Ray and Kersten Klophaus!
VAULTING is often described as gymnastics on horseback, and many believe the heritage comes from an equestrian act at circuses, but its origins stretch back at least two thousand years. Vaulting is a harmonious bond between horse and athlete that creates awe-inspiring acrobatic displays of skill and precision. All Vaulting routines—team, individual, and freestyle—are performed on the back of a cantering horse, traveling in a circle and attached to a lunge line. Competitors are judged on their ability to smoothly execute compulsory movements demonstrating strength, flexibility, and balance during their routines. The horses are a vital part of the team and, like the human gymnasts, are also judged on their performance and elegance.
The Vaulting competitions at the FEI World Equestrian Games™ Tryon 2018 will be hosted in the newly renovated indoor arena at TIEC, which will feature stands that seat up to 5,000 spectators in an air-conditioned atmosphere to provide the best environment for Vaulting competitors and their mounts.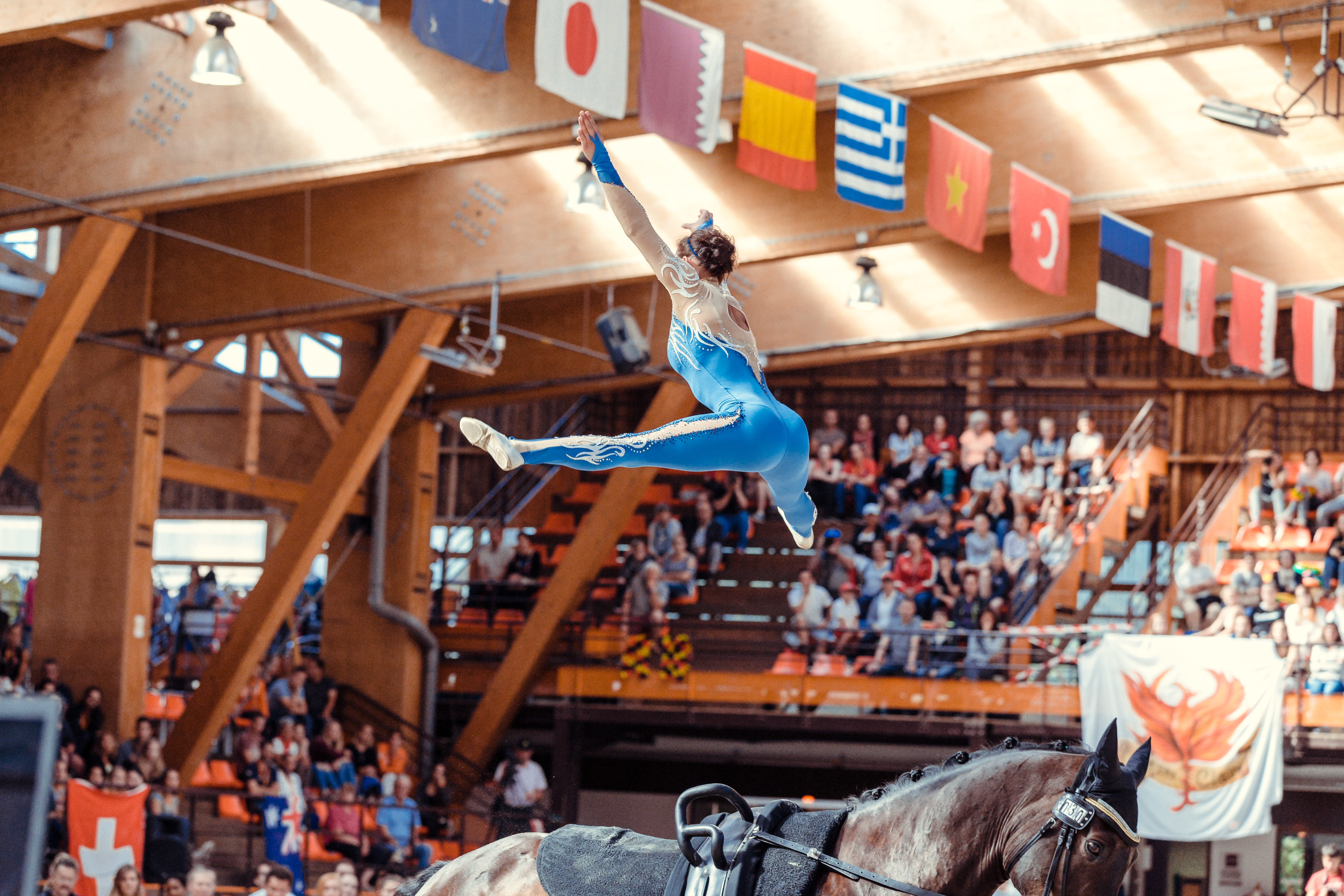 WEG Vaulting Co-Discipline Managers Katherine Ray and Kersten Klophaus took the time to give us an update on what to expect when Vaulting comes to TIEC, why they love Vaulting, and why you should too!
How would you describe vaulting to someone who's never seen it before? 
Katherine:
Vaulting is the combination of gymnastics and dance on the back of a moving horse in time to music.  It is one of the most unique sports in existence and is reliant on the strength of partnership and trust between horse and rider. Vaulting exercises include artistic mounts and dismounts, shoulder stands and handstands on the horse, carrying or lifting another Vaulter, and kneeling and standing exercises. The horse is guided on a long rein by a Lunger standing on the ground who ensures that a steady canter is maintained on a circle with a minimum diameter of 15 meters.
Within the sport of Vaulting there are three different events; the male and female individual competitions, the Pas De Deux (two vaulters on the horse at the same time) and Squad (six vaulters).
 The Vaulter is not the only competitor under the judge's eye, 25% of the final score is the horse score based upon the canter, demeanor, elegance and positioning of the horse on the circle and the effectiveness of the Lunger's aids. The overall score combines Vaulter degree of difficulty, artistic interpretation and the horse and Lunger performance. Each Vaulter designs their own outfit and composes special music which they interpret on the horse.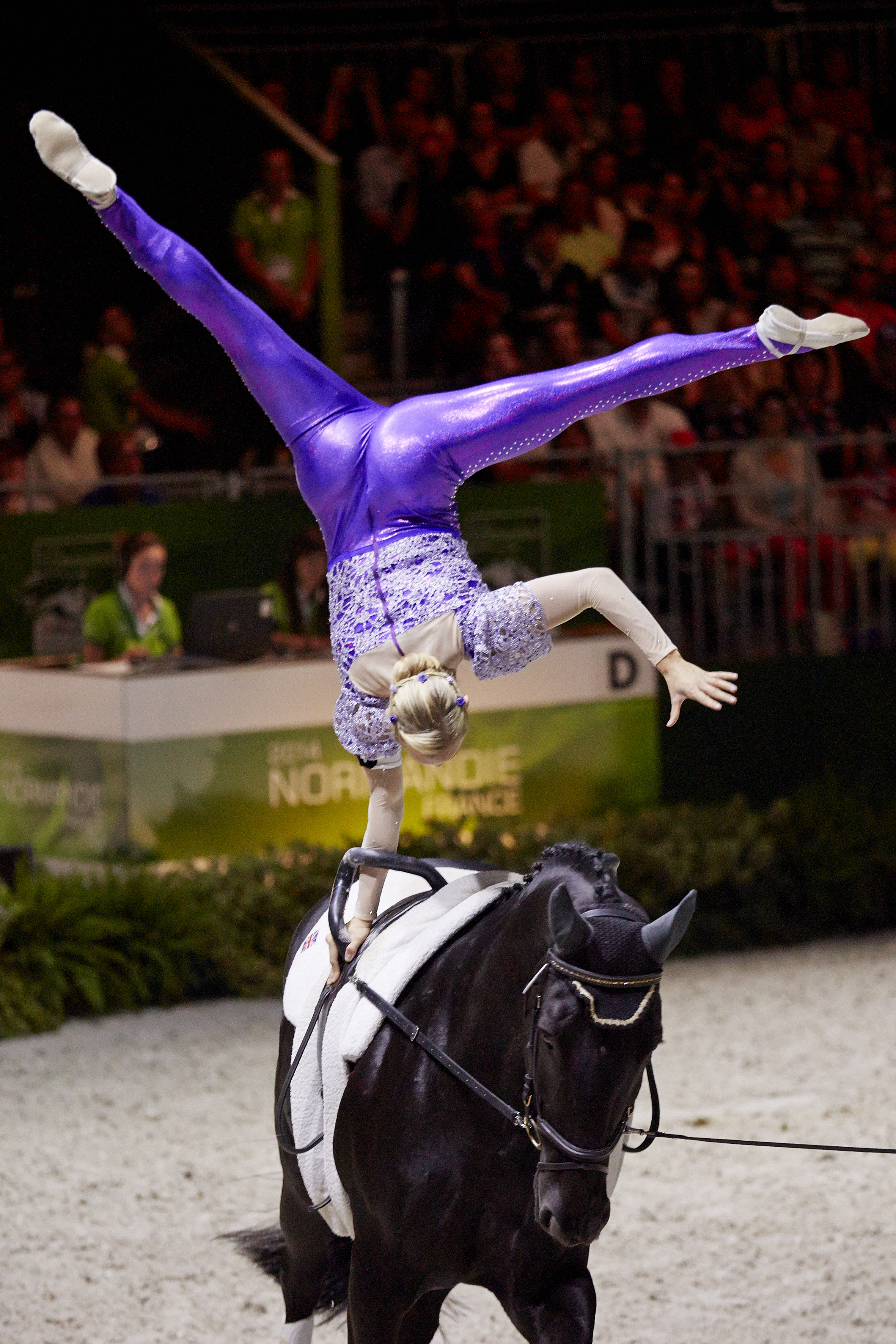 What does it take to prepare for this discipline at WEG?
 Kersten:
We are responsible for all aspects of the Vaulting at WEG. We create an international team of 60 volunteers that fill numerous tasks required to produce Vaulting. From organizing and checking all equipment and materials to positioning the judges' stands perfectly or determining exactly how much time a horse needs for entering the circle. There are many other details to coordinate, too, such as sound and lighting, since music is very important to Vaulting performances, as well as photographer areas and the positioning of broadcast equipment and staff. A lot of different tasks are necessary, requiring an experienced team, working for just one aim: to guarantee the best Vaulting experience for competitors, spectators and guests from all over the world.
Katherine:
 These Vaulters have been training for many years and most all do cross-training of a variety of sports, such as yoga, gymnastics, weight training, running, and others. The horses likewise, have been training for many years and also do much cross training, usually Dressage.
Briefly describe your background and how you got here: 
Kersten:
As a child I began Vaulting in a team, and then competed individually. Because of the discipline's demand for a combination of horse sport, gymnastics, and team spirit, I decided to become a trainer and went to the German Championships twice. For twelve years I was the chairman of the Vaulting Committee at the German National Federation. My favorite activities are organizing top class Vaulting events like national and international Championships. Some of my biggest achievements have been working as the Discipline Manager for Vaulting at the FEI World Equestrian Games™ (Aachen, 2006 and Lexington, Kentucky, 2010). It is a great honor for me to organize Vaulting at Tryon this year and with a great team of volunteers and Katherine Ray beside me, I think this will be an incredible event!
Katherine:
My daughter started Vaulting 17 years ago, which lead me to become President of her club's board.  Through those early years, I helped start several new Vaulting clubs in Washington State. I also attended all of the educational clinics and anything put on by the AVA (American Vaulting Association). After several years, I became the Director of Competitions for the AVA and then the Vice President of Competitions.  My role is to organize and run each National competition.  One of the highlights of my Vaulting career was being able to attend Aachen, Germany, last summer and meeting and working with Regina and Kersten Klophaus. The Aachen Vaulting event is noted as being the best run competition in the world. It was an incredible experience both for myself personally and with Vaulting. I am thrilled to be working with them to host the FEI World Equestrian Games.
What about this venue is exciting for hosting this discipline?
Kersten:
The organizing team's equestrian experience, combined with the great facility at the Tryon International Equestrian Center, especially the indoor Vaulting arena, sets the stage for fantastic and electrifying moments to wow the ticket holders. Spectators in attendance will feel the special spirit of Vaulting, witnessing breath-taking competitions.
Katherine:
This venue is a beautiful location for WEG, especially the indoor complex, and watching it being built from the ground up specifically for the Games is incredible.
From a sport perspective, what should spectators watch for this year?
 Kersten:
In Tryon, we are organizing the Nations Team competition, and it is the first time ever that this type of competition is a part of WEG. The National Teams are composed of two individuals and a squad.
Like in Kentucky 2010, the United States Equestrian Federation (USEF) will nominate a strong home team to take on the successful athletes from Europe and South America. Thrilling competitions for individuals, squads, and spectators are guaranteed.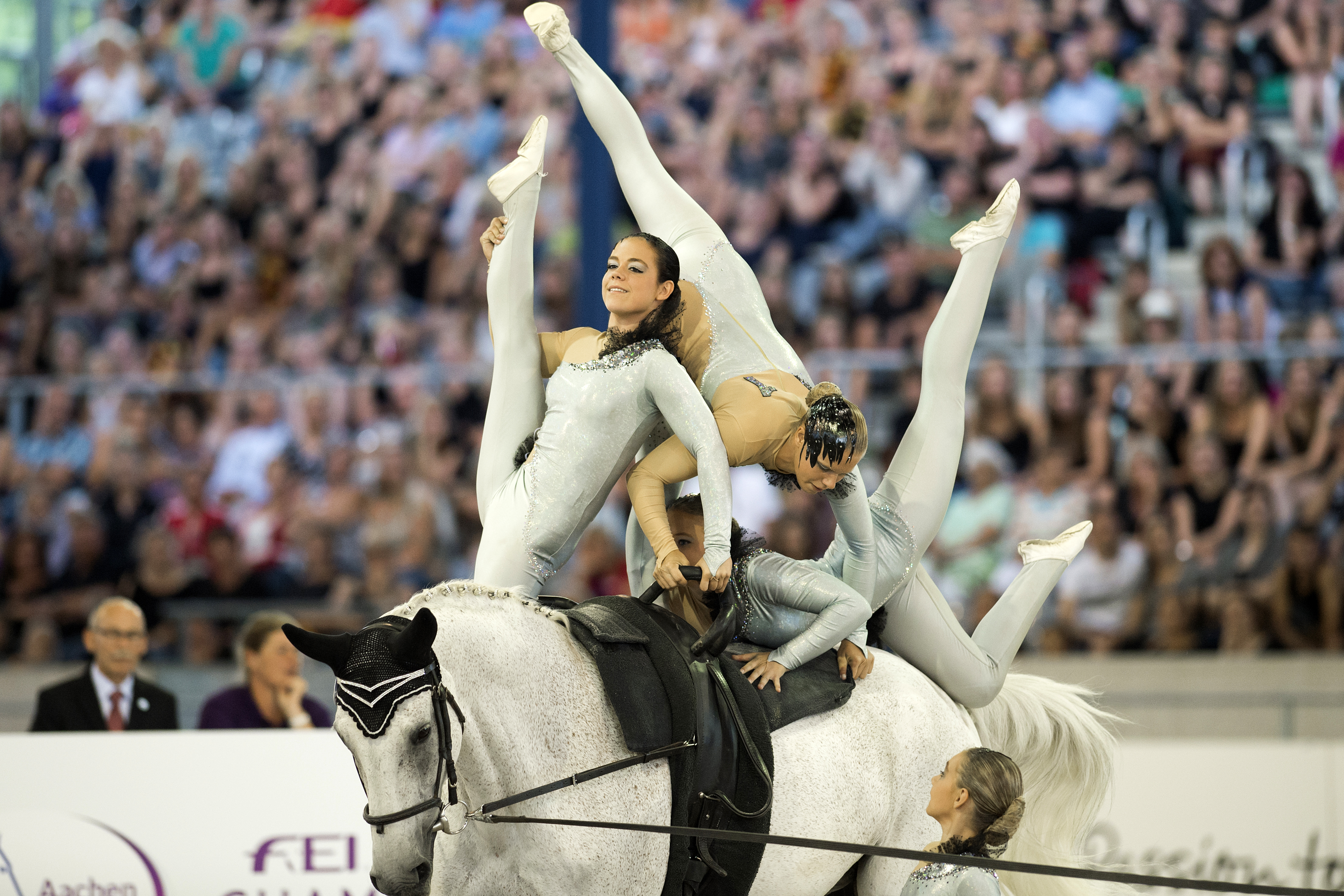 What does it mean to you that WEG has returned to the United States? 
Kersten:
It is a huge honor to be responsible for the Vaulting competition for a second time in the States. In 2010 spectators were captivated by thrilling tests, wonderful choreographies and an indescribable atmosphere in the arena. Thousands of visitors were under the spell of Vaulting. I love these moments, and I love the special commitment of all the volunteers we are working within a great international team.
Katherine:
We are very excited to have WEG return to the USA!! The American crowds always show so much support and we are looking forward to captivating them with the beautiful vaulting displays that will be on offer.
Why Vaulting? What draws you to it?
Katherine:
Vaulting is an incredible sport, which to me, really captures the partnership of the Vaulter and the horse. It is visual and magical. The work, effort, and years of training are all worth it to see that wonderful combination execute a routine. Vaulting brings joy and it is FUN! The teamwork and dedication of vaulting is unsurpassed in the equestrian world.