By: Ashley Swift, US Equestrian
Mary Jordan, a lifelong equestrian and a developing Grade V para-dressage athlete, was diagnosed with multiple sclerosis (MS) 15 years ago. But despite the ups and downs that accompany the neurological disease and treatment, Jordan has always found a way back to the saddle.
Jordan competes in both para- and able-bodied dressage. She won the Grade V Freestyle class at the USEF Para-Equestrian Dressage National Championship in 2017, and took on able-bodied competitors after qualifying for the US Dressage Finals presented by Adequan®. She competed at third level at the championship event, which took place Nov. 9-12 at the Kentucky Horse Park in Lexington.
Through para-equestrian, Jordan says, athletes make the seemingly impossible possible, and she particularly values the sense of community and inspiration she feels at the para-dressage competitions. And she's found parallels between elite para-dressage and living with MS, something she talks about when she addresses groups of MS patients.
"One of the things I've learned from being an equestrian is that you do not walk alone," she explained. "It is very much a team effort to be a successful equestrian, especially at this level. I tell MS patients, you don't need to be a rider to build your own team. You need to build your own team to help you be successful as an MS patient. And when you have a disease like MS and pursue your dream to be an elite equestrian, you just add more people to your team. People that are behind you, people that will motivate you when you're down, fatigued, or challenged. It is critical."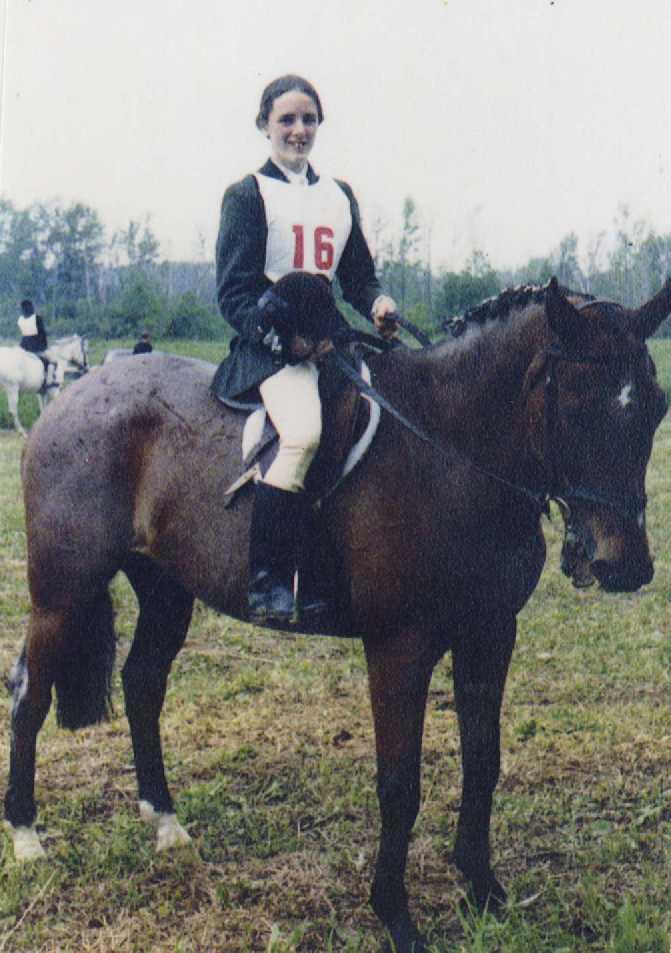 A native of central New York State, Jordan spent her childhood learning all aspects of horsemanship with her beloved Roanie, an open jumper in his prime who came to her in his mid-20s. Jordan reflected on her first horse as that once in a lifetime animal who catapults us into the passion of equestrian sport.
"He was just remarkable," said Jordan, now based in Wells, Maine. "It's those horses that shape the landscape of your life that are your greatest teachers and your greatest inspirations."
For Jordan, MS was a daily reality long before her own diagnosis. Growing up, she watched her father cope with a severe case of MS and was his caretaker as his health deteriorated. She was diagnosed at age 36 in 2002, but by 2010 she had become a world-class para-equestrian, competing nationally and overseas, and competed as an individual at the U.S. Para-Equestrian Team for that year's Alltech FEI World Equestrian Games™ in Lexington, Ky.
While the medical field has made great strides in treatment options, Jordan encourages family and peers not to discount the power of spiritual healing. "I want people to know that there is great hope," she said. "I also like to remind people that there is the spiritual medicine that you can tap into, which for me is the love of riding. I am more focused on what I want to do rather than lamenting what I can't do."
Jordan's partner for both para- and able-bodied competition is Rubicon 75, a commanding 18-hand, 12-year-old Oldenburg gelding imported from Germany. Jordan first met Rubicon after he was donated to Vinceremos Therapeutic Riding Center in Loxahatchee, Fla., a USEF Center of Excellence, and, within 15 minutes, they had an instant connection.
"That was the beginning of our relationship," Jordan recalled. "He wasn't exactly the easiest horse for anybody to ride, but for some reason we clicked and we connected. He picks his riders well, and I'm just glad he loves me, because I love him and he's a blast to ride!"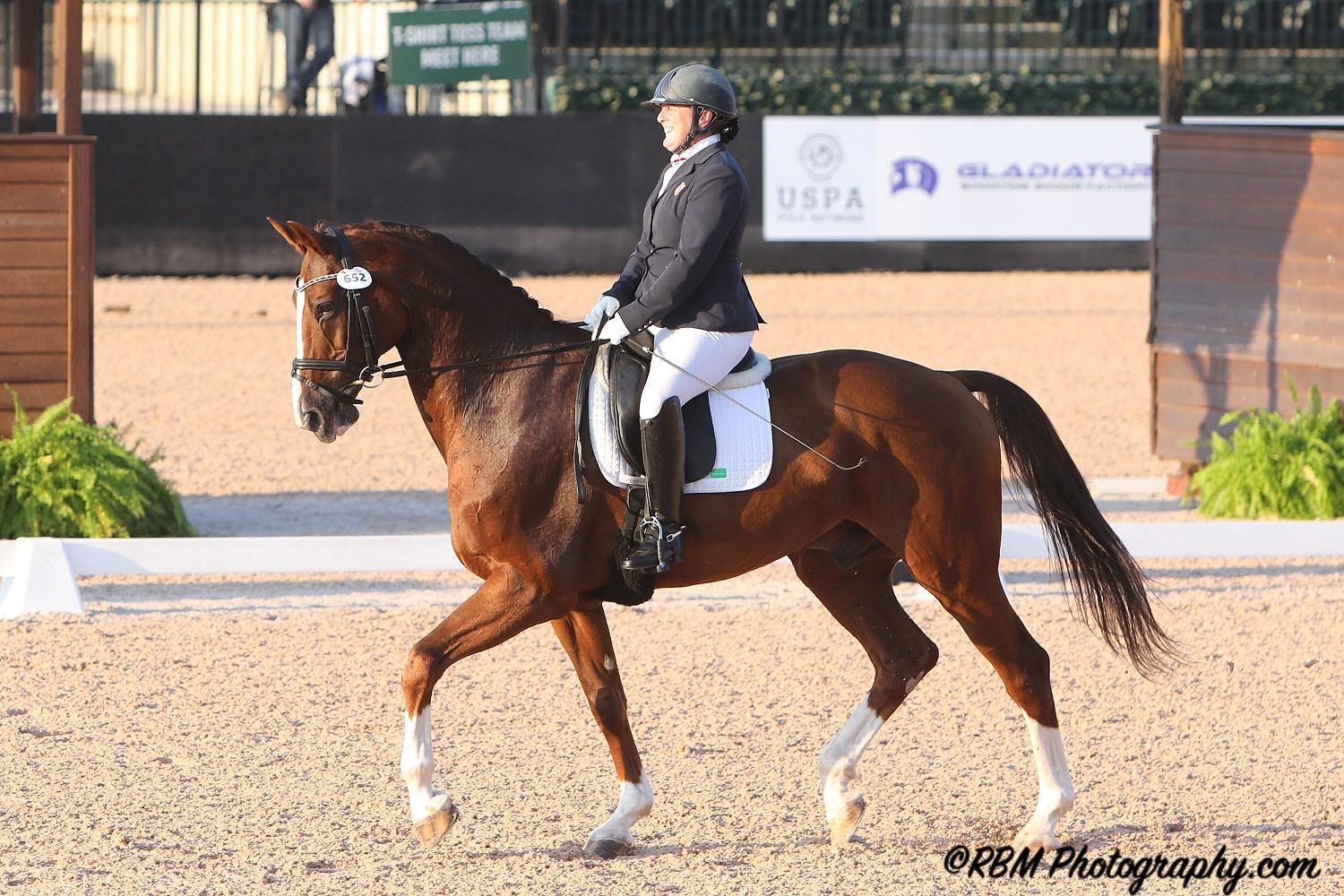 An elite para-dressage horse needs to have the same physical talent as horses for able-bodied FEI athletes, but for para-dressage a gentle disposition also is a requirement. And para-dressage horses must learn to respond to their riders in particular ways, depending on the rider's needs. Jordan has weakness on the left side of her body, making this a key area of focus in training for both her and Rubicon, so that they can effectively and safely communicate with one another.
Since working with Jordan, Rubicon has been given the time and the training he needed to fully develop and harness his outstanding natural talent. As Rubicon's training evolved, Jordan discovered that he finds particular joy in freestyle dressage. "You can really feel him dig in to the music!" she said. "I feel like I have such a partner in the ring now, it's just unbelievable."
Conveniently, freestyle is Jordan's favorite, as well.
"I just love riding horses to music," she explained. "I feel so at home in these great big, open-air stadiums with the music blaring and my horse moving around. and it's like 'Wow, I don't feel like I'm 50 and have MS!' It feels like I'm having a heck of a good time."
For the rising generation of para-equestrians, Jordan encourages them to immerse themselves in the experience and relationship with the horse. "It's a journey," she said. "It's taking the time to learn the sport. Learn it from the inside out. Learn how to be an excellent horseman in order to create a foundation and build on those experiences. Observe. Try. And don't forget to play and have fun."
To learn more about para-equestrian sport, visit US Equestrian's para-equestrian page and the United States Para-Equestrian Association.
Want more articles like this delivered to your inbox every week? Sign up here to receive our new, educational Equestrian Weekly newsletter.
This article is original content produced by US Equestrian and may only be shared via social media. It is not to be re-purposed or utilized on any other website aside from usequestrian.org or tryon2018.com